The title says it all. January was an uninspired month fueled by a lack of hours at my current job and fruitless search for a 2nd job. My days were spent staring at numerous job posting sites, and my evenings consisted of an anxious/uneasy feeling mixed with moderate amounts of self loathing.
January sucked.


There was a silver lining though, the last week of January I found out that I would be getting hours next month. I was nursing my job search bruised ego that last week, reading the
craftster
forums and exploring new and uncharted territories in blog land. And then it happened,
I found inspiration
.
This woman is amazing, her name is Carolyn and I've been addicted to her blog for the past few days, devouring her extensive blog archives, taking notes on techniques, and coveting her fabric collection. I highly recommend
Diary of a Sewing Fanatic
. I felt invigorated reading her blog, ready to take on new challenges, and so it began.
What to make though? I had a few things in mind before my January blues kicked in, so I did a little research on
pattern review
, and decided on making Simplicity 4079, a very at the moment hip and trendy lined vest.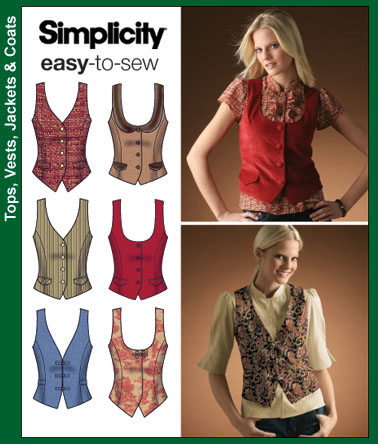 I was lost in some sort of fantastical sewing trance all day Saturday and managed to cut, everything out, and assemble the majority of the vest, pressing every seam not once, but twice. I love the lining I can't believe I made it, its that amazing. Pictures will come but not today as I hope to finish the vest some time tomorrow, and I have an awful lot of slip stitching to do if I'm going to reach that goal.